---
go to main page
go to bowl index page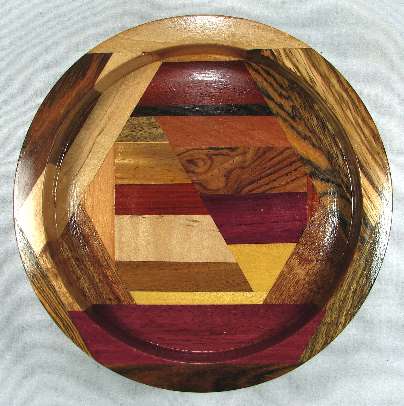 B248 --- $95.00 --- this is the orientation view --- more pics down below

diameter: 7"
height: 2 1/2"

finish: 10 thin coats of satin-finish spar polyurethane (with UV blocker)

WOODS USED: [SEE DISCUSSION ON THE MAIN PAGE OF THIS SITE IF ANY OF THIS IS UNCLEAR]

base: sweet gum

view 1: chechem, purpleheart, BOX

view 2: limba, sipo, BOX

view 4: zebrawood, bocote, BOX

view 5: sycamore, redheart, BOX

view 6: chechem, maple, BOX

view 8: bocote over purpleheart, chechem, BOX

BOX: left side wedge is cypress, right side wedge is redheart, left side, from bottom up, is yellowheart, iroko, maple, redheart,sapele, maple veneer, oxhorn. Right side, from bottom up, is yellowheart, purpleheart, Honduras rosewood, cabreuva, wenge

flaws/issues: There are some EXTREMELY minor raised joints around the outer rim. You can't see them and you can barely feel them. Some of the woods have darkened just slightly since these pics were taken many years ago.

comments: The chechem in views 1 and 6 are both nicely chatoyant as is the zebrawood in view 4. The limba in view 2 is mostly dark "black limba" but has an interestingly-grained slice of "white limba" sapwood at the outer rim as you can see in view 3a below. The purpleheart in view 1 is a particularly rich color.


---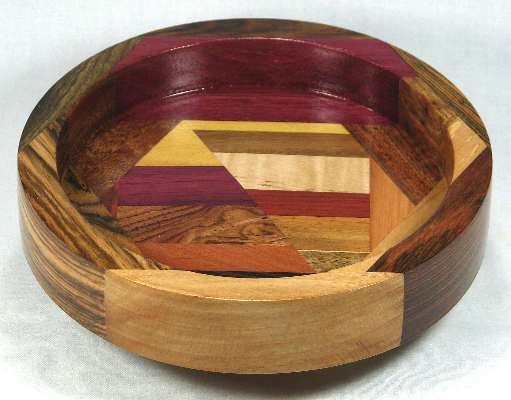 views 5c and 8b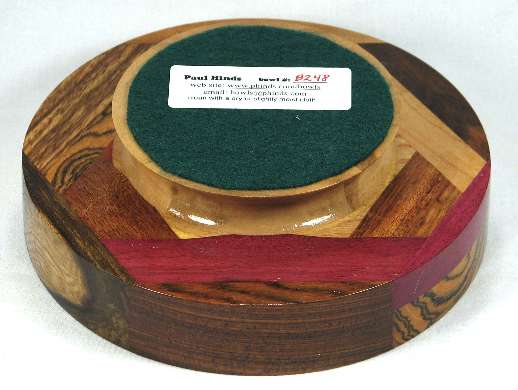 views 1d and 3a


---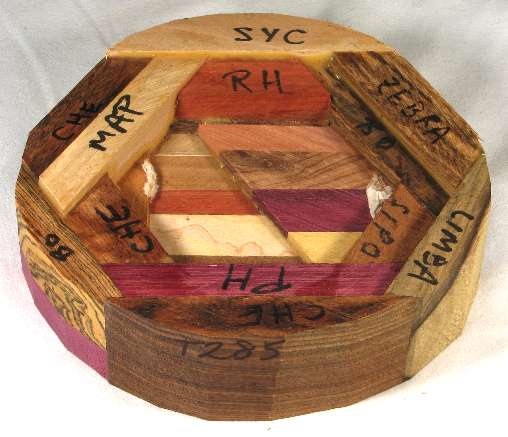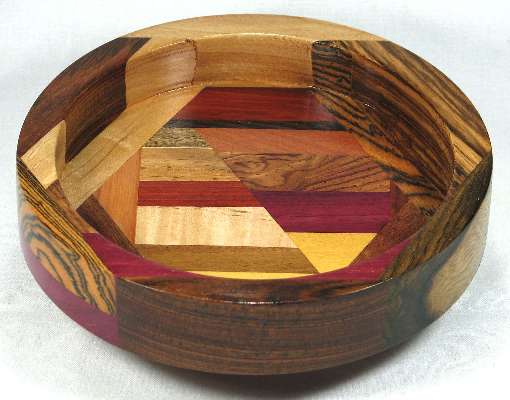 view 1c as the bowl blank and then as the finished bowl