---
go to main page
go to bowl index page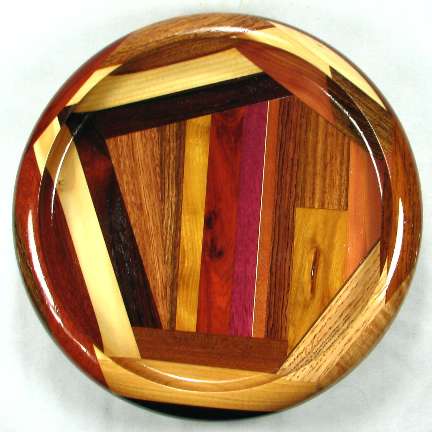 N28 --- $95.00 --- this is the orientation view --- more pics down below

diameter: 9"
height: 2 1/4"

finish: one application of natural stain then 3 coats of high gloss spar polyurethane (with UV blocker)

WOODS USED: [SEE DISCUSSION ON THE MAIN PAGE OF THIS SITE IF ANY OF THIS IS UNCLEAR]

base: walnut

view 1: partridgewood over osage orange over mahogany(?) all backed by cypress then ? (dark brown wood)

view 2: red maple with light spalting, ash, thick walnut veneer

view 3: bubinga, aromatic red cedar, osage orange to the left of machiche, bubinga, BOX

view 4: pine over mahogany over maple veneer over mahogany over redheart over mahogany all backed by bocote to the left of aromatic red cedar

view 5: ? (mahogany or sapele probably), pine, cocobolo, BOX

view 6: redheart over aromatic red cedar

view 7: bocote over African mahogany backed by bloodwood, pine, cocobolo, BOX

BOX: from the left: wedge of mahogany, chechem, osage orange, redheart, purpleheart, maple veneer, mahogany, then the bubinga of view 3

flaws/issues: There is a hairline stress separation in view 4 at the inner edge of the bocote/aromatic red cedar pair where those two pieces meet the machiche of view 3. It is hardly noticeable visually but you can feel it with your fingernail and I have reduced the price of the bowl because of it. Some of the woods have changed color somewhat since the pics were taken many years ago but it's still basically what you see is what you get.

comments: The pine/cocobolo sets in views 5 and 7 each have a nice omega curve behind them in the inner rim and also the point where they come together has a very interesting look. Numerous nice omega curves inside the rim of this one.


---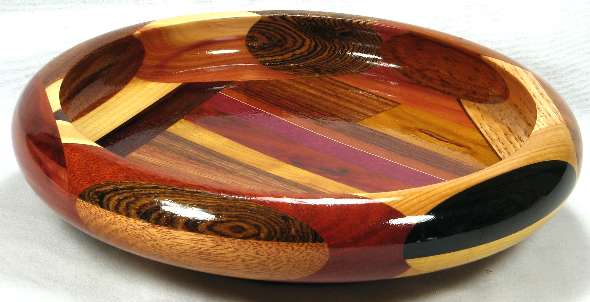 views 1b and 8a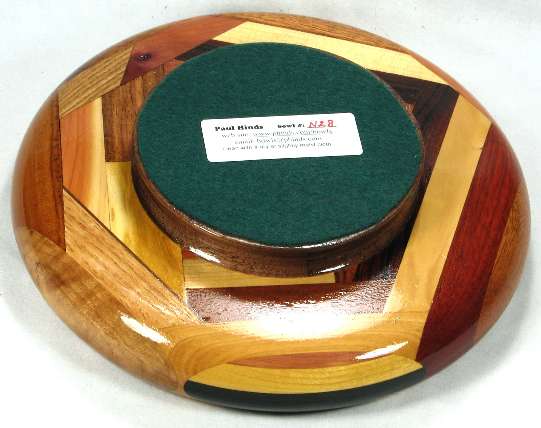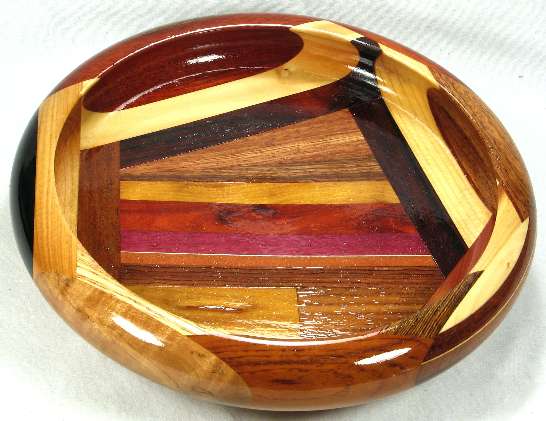 views 1d and 3c


---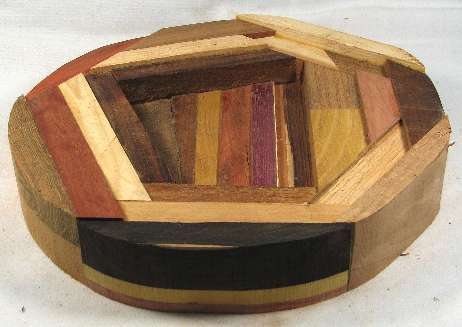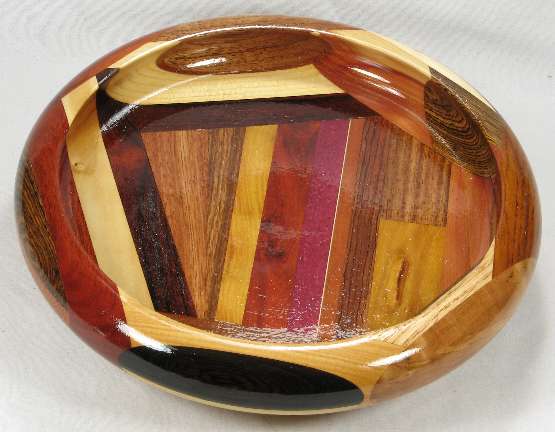 view 1c as bowl blank and as the finished bowl