---
go to main page
go to bowl index page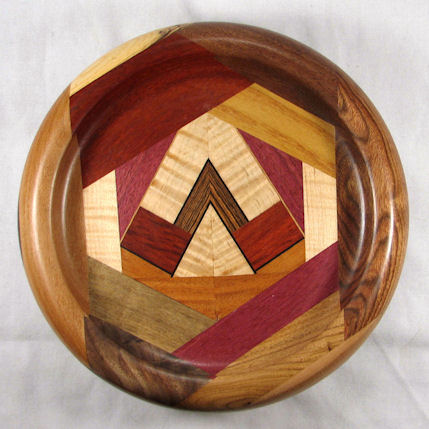 C225 --- $95.00 --- this is the orientation view --- more pics down below

diameter: 9"
height: 2 1/2"

finish: 10 thin coats of satin-finish spar polyurethane (with UV blocker)

WOODS USED: [SEE DISCUSSION ON THE MAIN PAGE OF THIS SITE IF ANY OF THIS IS UNCLEAR]

base: canary

view 2: serviceberry, butternut, purpleheart

view 3: chechem, curly maple, BOX

view 4: walnut, mulberry, BOX

view 6: spalted elm (with wormholes), padauk, BOX

view 7: partridgewood, sycamore, curly maple, BOX

view 8: ?, walnut crotch, persimmon

BOX: going up the middle are mirrored pairs of mahogany, curly maple, two layers of ebony veneer, bocote, two layers of ebony veneer, curly maple. The red squares are redheart and the upper corners are thick birch veneer then purpleheart. The lower corners are mahogany.

flaws/issues: The lower point of joining of the two pieces of mahogany at the bottom of the BOX has a chipout that I have smoothed out but it remain QUITE visible and is definitely a flaw. Although it hardly shows up in the pics below, when you catch it just right in the light, it's blatant.

The worm holes in the spalted elm in view 6 are not flaw; I chose that piece on purpose for the spalting and I consider the wormholes to be "character", not a flaw.

There is a hairline separation at the lower left side of the BOX

comments: I really like the BOX on this one, but I have to say that I'm not as happy with the way the thick piece of padauk in view 6 seems to be not properly balanced, visually, by the walnut and mulberry in view 4; the upper part of the bowl just has an unbalanced look to me, although only when viewed from above. Fortunately, the striking visual impact of the BOX pretty much makes up for it.


---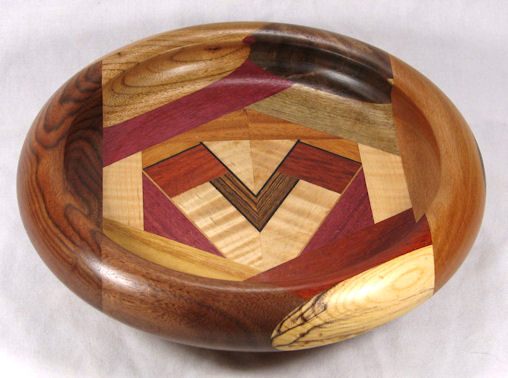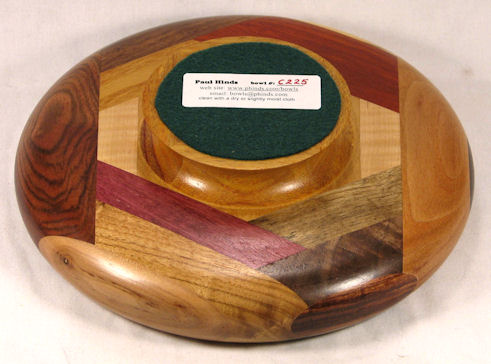 views 5c and 1d





views 3b and 8b


---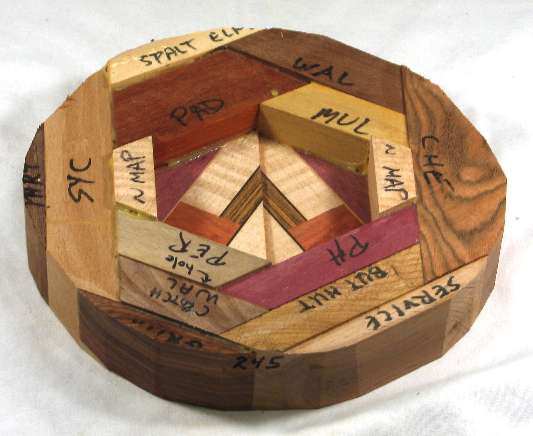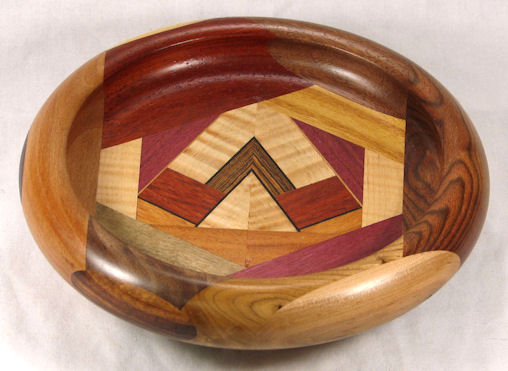 view 1c as the bowl blank and then as the finished bowl