---
go to main page
go to bowl index page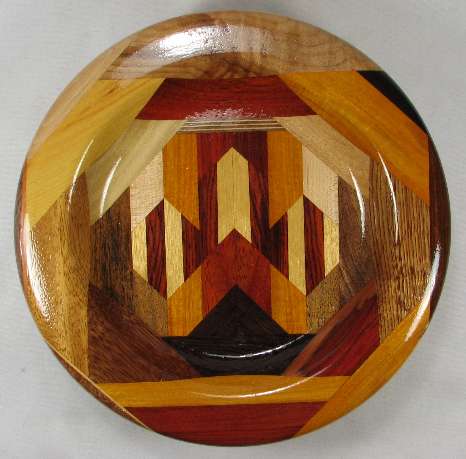 B165 --- $90.00 --- this is the orientation view --- more pics down below

diameter: 9"
height: 2 1/2"

finish: 10 thin coats of satin-finish spar polyurethane (with UV blocker)

WOODS USED: [SEE DISCUSSION ON THE MAIN PAGE OF THIS SITE IF ANY OF THIS IS UNCLEAR]

base: chechem

view 1: redheart, thick walnut veneer, paela, wenge, BOX

view 2: osage orange, two thicknesses of padauk veneer, paela over osage orange over redheart, redheart with sapwood, BOX

view 3: cocobol (with a VERY nice grain change), English brown oak, walnut, BOX

view 4: African blackwood, paela, sycamore, BOX

view 5: curly red maple (curl is very light), paela, a lamination of 3 layers of maple veneer and 4 layers of thick walnut veneer, BOX

view 6: sycamore (with brown streaks), osage orange, tulip poplar with a very light green color, BOX

view 7: walnut, aromatic red cedar thin, tatajujba, cumaru(?), BOX

view 8: sapele(?), two thicknesses of oak veneer, limbli, BOX

BOX: bottom triangles are wenge and above that is padauk sided by paela sided by bocote (not the normal bocote grain pattern, but notice the tiny ray flakes). In the middle is yellowheart sided by cocobolo sided by cocobolo sided by yellowheart sided by cocobolo sided by yellowheart. At the top is padauk sided by paela sided by hard maple (showing nice ray flakes)

flaws/issues: The bottom of the BOX has a very thin stress separation from the wenge in view 1 and the limbali in view 8 has a very poor glue joint next to the BOX and that alone has caused me to price this bowl lower than I otherwise would. Also, the osage orange in view 6 has darkened to a golden tan and a few of the other woods have darkened just slightly.

comments: Really excellent woods throughout this one and with contrasting colors that I find particularly attractive. The wenge piece in view 1 and in the box are much more attractive than the plain dark color shown in the pics.


---



views 3b and 8b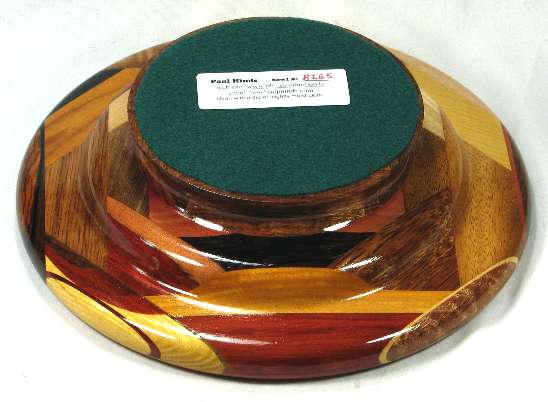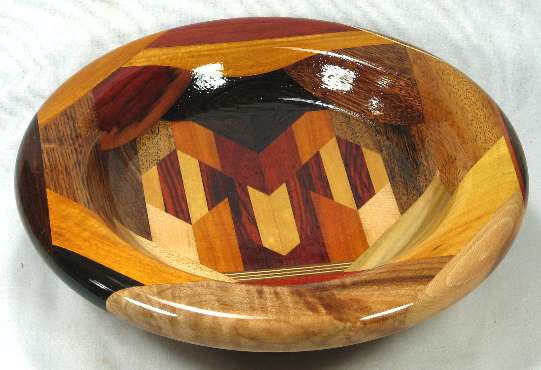 views 1d and 5c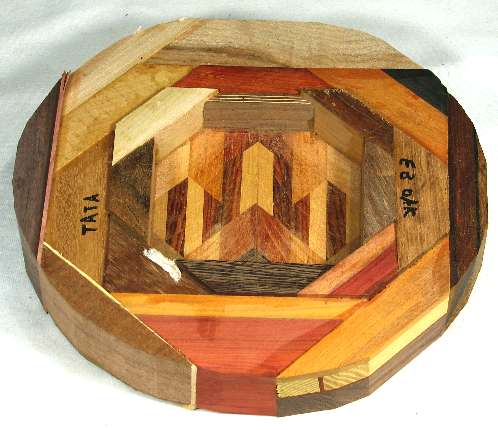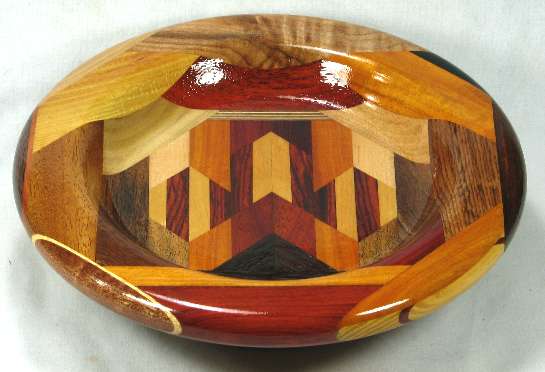 view 1c as the bowl blank and then as the finished bowl