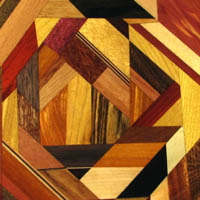 BOX STYLE 09: "random" is the name for this style, for a totally functional reason --- they really don't HAVE a style, and are randomly patterned and contain no symmetry of any kind.

I don't particularly like this style. I made about a dozen of them just so that I would have a large variety of angled sections to choose from when making them up, but I don't feel that the result is worth the extra effort that it takes to get them to line up the way I have, and I have no plans to make any more of them.

There are 2 bowls of this style currently for sale and they can be seen by clicking on the image.